Peer Tutoring Program
The CS department is sponsoring help/tutoring sessions for undergraduate courses. Tutors will be available in the computer lab on the second floor of Farris, Room 2065. They'll be available on a walk-in basis to talk one-on-one about questions you may have on classes — programming assignments, proofs, projects, language syntax, etc. Tutors are capable of tutoring 2XX- and 3XX-level courses. Questions about 4XX courses are welcome but tutors may not have direct experience with your topic.
---
---
---
---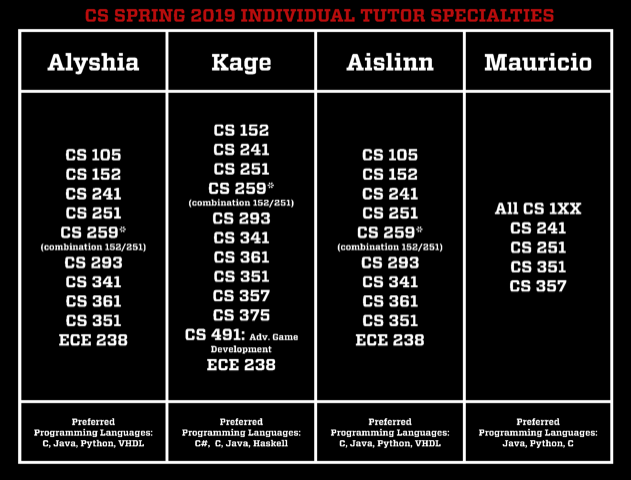 ---
The Computer Science tutors have adjusted their schedules to provide for greater coverage.
CS tutors cover all 200-level courses.
Q: Are there tutoring hours during breaks/university holidays?
A: We don't have any fixed, scheduled hours during university holidays. If a student needs to meet during a break, please contact us. We *may* be able to set up a special meeting time.
Q: Are there tutoring hours during Finals Week?
A: Yes! There are times during Finals Week, but they will be different than the normal times. The Final Hours table will list the hours.
Q: I can't make the tutoring times! But I really need help! Can you help?
A: Students can attempt to make an appointment with one of the tutors. The tutors will try to find a good time to help, but they are busy with classes too. In addition, try messaging the AIM username csundergradhelp or the emailing the tutors at csundergradhelp@cs.unm.edu.